CARBON 12 is an artistic residency and exhibition project to take

place in Jaipur and New Delhi, India, April, 2016. It bring together

11 international artists from France, Iran, Ivory Coast,

Lithuania, Mexico, Norway, South Africa, South Korea, The United

States, And one Earth Science writer.

*Maine University Museum What's the big idea? Small paintings from the Museum collection May 13- Sept 10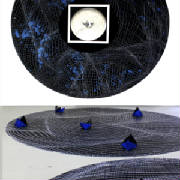 ©2015 Joan Belmar. All rights reserved.