Cambalache
Coming soon Addison Ripley Fine Art
Cambalache is the name of a tango written in 1935 by Argentinian Enrique Santos Discepolo.
It focuses on 20th-century corruption, division, and it denounces the lack of moral values.
The lyrics seem so timely to me, especially in light of the results and the division caused by our recent election, and they are the inspiration for this series of works on paper, canvas, and the installation.
HalfWorld/Keystone Quadrant
Acrylic, ink and gouache on Duralar
10 Feet
2016
Osten Biennial of Drawing 2016
University of Maine Museum of Art
"What's the Big Idea?: Small Paintings from the Museum Collection" from May 13-September 10, 2016.
Curated by George Kinghorn,
Executive Director and Curator, UMMA
http://umma.umaine.edu/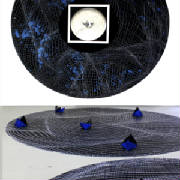 ©2016 Joan Belmar. All rights reserved