click on image to enlarge
CHORD Paper XII
2014
acrylic, ink, & gouache on paper
CHORDS Crossing the Andes,

2014, mixed media on canvas,

2014, mixed media on plywood,

CHORDS Blue/Paper

2014, mixed media on plywood,

30 x 40 inches

2014, mixed media on plywood,

CHORDS: Small Paper XI

, 2014

CHORDS: Smal Paper X

, 2014
| | | |
| --- | --- | --- |
| Plastic cups, ink, vinyl, glue and plywood | Mylar, ink, vinyl, and wood on plywood | Straws, ink and wood on plywood |
"Interstices"

The title of this series, "Interstices," signals the two principal motivations that brought me to this work. First, interstices is about the spaces in between, and this fits so nicely with my interest in using contemporary translucent materials. Second, the subject matter of this series, the indigenous Selknam people in Chile, were a people caught in between the changing world around them, which took them from a vital and independent culture to a rather calculated extinction by the middle of the last century.



Arauco Series
Exhibition Statement
These works are from my "Arauco" series. Arauco is the region in southern Chile, my native country, where the indigenous Mapuche people live. The Mapuches fought very hard to resist the Spanish conquest. Their struggle was depicted in the epic poem La Araucana (1569–89) by Alonso de Ercilla y Zúñiga, a Spanish soldier who praised their courage. The descendants of those who survived the fighting are treated today as second-class citizens in their own county. And the government and private businesses are constantly trying to take their lands. The Mapuches often respond with violent demonstrations and the burning of private property, which makes their cause very controversial in Chile.
All agree, however, that the Mapuche culture is rich in its traditions, textiles and jewelry. My "Arauco" series is an abstract body of work that seeks to celebrate the geographical heritage, culture, and traditions of the Mapuches and recognize the continuing nature of the struggle they face in contemporary Chile. These works are a continuation of my "Territorries" series that began by celebrating the Selk'nam people, who became extinct in Chile by the middle of the last century.
Arauco Canvas #5
(From territories series)
54" x 40"
Acrylic, oil, ink and gouache on canvas
2013
Trance Lucid
Exhibition statement
During the last few years, I have been working with translucent materials to create pieces that react to light. I enjoy how the pieces are perceived differently depending upon how they are exposed to light and depending upon the angle from which they are viewed.
Separately, I have been wanting to explore how an object's individual qualities change when it becomes part of a group, transforming it into something very different .
For this exhibition, I will combine these two interests. I will create an organic installation that seeks to exploit the particular properties of frosted cups. I have been drawn to their capacity to both absorb and redirect light. And I hope a massive grouping of them will give us different insights into their construction and qualities.

Territories



Territories series is two-dimensional and it explores the psychological and cultural divisions that so affect the way we see the world around us. I was drawn to maps, especially as I researched the Selknam people, who inhabited the southern region of my native Chile and who were exterminated in the last century. In the maps, I encountered symbols, colors, drawings, grids, dots and lines. Accordingly, in the "Territories" series, I created certain structures, but then I let the organic qualities of the acrylics, gouache and ink mix and move spontaneously on the canvas or paper. Metaphorically, they are in search of freedom in a structured world.



Tierra Del Fuego Series 2012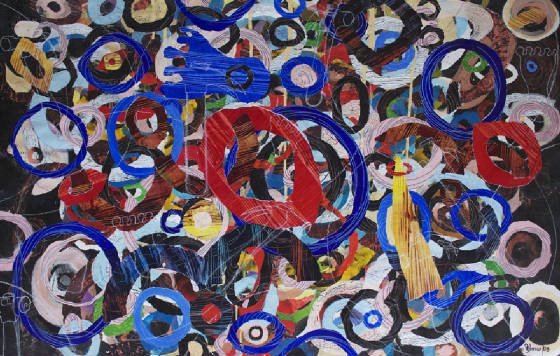 America, Monday Morning 30" x 43.5" Mixed Media on paper 2005




Hidden Treasure: Artist's Statement




This exhibition is generously hosted and organized by

Charles Krause

who has been a supporter of my career for many years and who titled this exhibition

Hidden Treasure

.

This show is composed of two series of works: the America and Tierra del Fuego series. The America series paintings reflect my first impressions (1999-2007) of a multi-cultural country with a spectrum of different religions, races and languages. And very soon after I came to the United States, it was a country convulsed by 9/11 and the wars in Iraq and Afghanistan. The anxiety, uncertainty, and psychological struggle both within the country and within myself were embodied in this series of spontaneous paintings. It was not until this year (2012), after Mr Krause convinced me to show him this body of work, that I had the chance to experience these paintings again and revisit the almost forgotten feelings of my first years in America.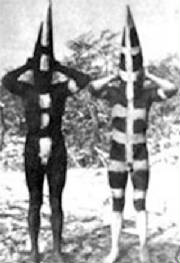 Selk'nams. 1923 Photography by Martin Gusinde

The Tierra del Fuego series is inspired by the traditional coming of age initiation ceremony once held by the Selk'nam people from Tirerra del Fuego, a group of islands between Chile and Argentina. The Selk'nam became extinct in 1966 and what we know about them and their rituals comes from photographs taken many years before by Martin Gusinde in 1923.

Body paint (Dots and lines) were an essential part of their life. They had designs for hunting, war, peace meetings and shamanistic performances. My series is inspired by these designs. The crackling texture of these pieces seeks to reflect the hostile climate and conditions of the geographic region where the Selk'nam lived. My work on this series made me think about how politics, modernization and human greed affected the life of people to the point of annihilating them.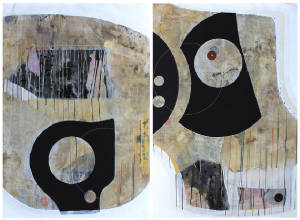 Reforma #1 (Tierra Del Fuego series)
50" x 36.5" each (diptych)
acrylic, ink, gouache, oil and colored pencils on paper
2012
Art at the top #1,#2,#3.
22" x 22"
Circle 48" of diameter
acrylic,ink, mylar,wood and vinyl on plywood
2012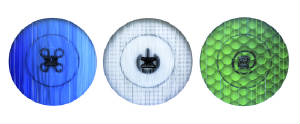 Types #1,2,3 & Volare #1, 2, 3

Acrylic, ink, mylar, wood and vinyl on plywood

30" x 30" each

2011
Corona. (From ONCE series)

32" x 30"

acrylic,ink, mylar,wood and vinyl on plywood

2013




The Chicago (From ONCE series)

32" x 30"

acrylic,ink, mylar,wood and vinyl on plywood

2013